10 movies about technologies
What is there to watch about gadgets, connectivity and artificial intelligence?
How film directors' fantastic ideas overtook science? What movies did Martin Cooper and Bill Gates grew up to? Why is the Matrix trendy again? How did Scarlett Johannsson become a perfect chatbot? We drafted a rating of the most interesting movies about IT, gadgets, information systems and modern telecom trends.
Eve's Wireless
How has it become possible at all?
Year: 1922
Author: unknown
Eve's Wireless, 1922
Two girls walking in the center of New York talking on the phone in 1922. This situation is not quite standard for the beginning of the century, isn't it? A few years ago the British Pathé agency posted the short silent movie Eve's Wireless online, which was the first to depict the possibility of wireless data transfer.
No one could understand how that was possible at tall. In an interview, a spokesperson of British Pathé, a news and movies archives, said: "Surprisingly, 90 years ago mobile technologies could become a reality." At the same time, the specialists of the archives confessed that they could not say for sure what technology is used in the movie and where the film was shot, or whether the phone on the screen is really connected to the fire hydrant.
Later, there were more versions explaining what is happening in the minute-long clip. One them says that the movie shows just a radio transmitter, not a telephone.
Wall Street
Michael Douglas and the first cell phone
Year: 1987
Director: Oliver Stone
Unlike in the previous movie, Oliver Stone's Oscar-winning Wall Street shows a completely real setting. The character of Michael Douglas, Gordon Gekko, appears on the screen with a Motorola Dyna Tac 8000X handset, the first commercially successful cell phone. Gordon Gekko, a fictive character, is the fourth richest person in the Forbes list and one of the 50 top villains of the world cinema.
It is not surprising that Gekko, a financial crook and a millionaire, owned the latest (and the first) cell phone. This device used to cost almost 4000 dollars and weighed 1 kilogram, and its battery could last a 30-minute call.
The first cell phone is known to be designed by Martin Cooper, a Motorola engineer. And he got his inspiration from nothing else, but… cinema. The idea of creating a portable device crossed his mind after he watched the epic TV show Star Trek in which characters use gadgets that greatly resemble today's flipping smartphones.
Star Trek
Technologies ahead of time
Year:1966 – till today
Director: Gene Roddenberry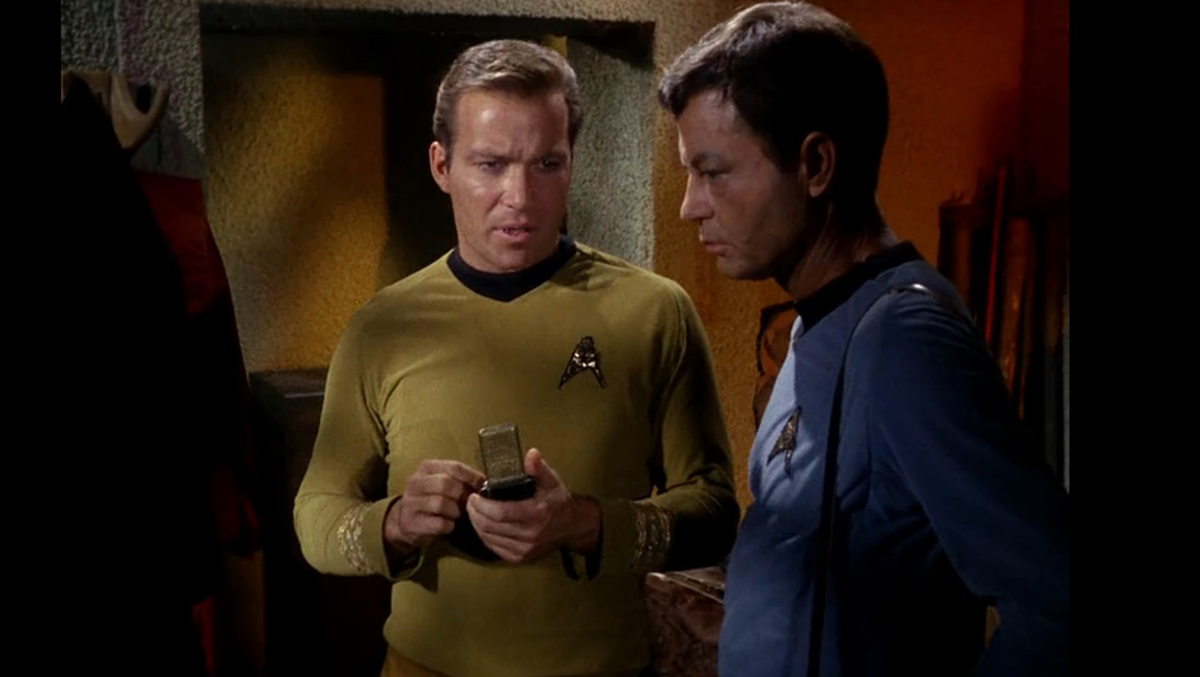 In 2016, the science fiction franchise Star Trek celebrated its 50th anniversary. Through all these years both mobile phones and other fantasies became real. For instance, the video connectivity technology is demonstrated already in the first episode of the TV show. In the Man Trap episode (1966) William Shatner's character Captain Kirk runs a video communication application which looks very much like Skype or FaceTime.
The authors of the epic TV show also showed a prototype of a modern tablet, the portable PADD (Personal Access Display Device) device. The cosmic iPad included a big sensor display and a manual remote control, it had memory and computing power.
When Steve Jobs introduced the real iPad in 2010, Michael Okuda, a technical consultant of Star Trek, could not conceal how stunned he was: "There are lots of things that can be easily shown in a movie and difficult to implement in real life. Steve Jobs brilliantly took stock of the portable device idea. I am really impressed by the iPad's interface which is friendly, intuitive and remarkably flexible".
2001: A Space Odyssey
How Stanley Kubrick invented Apple's design
Year: 1968
Director: Stanley Kubrick
The best science fiction movie in Hollywood's history (according to the American Film Institute) and a recognized masterpiece of world cinema, this Kubrick's movie became another prophecy about future technologies. Prototypes of modern tablets, liquid crystal screens, video calls, TV screens on the rear side of seats in spaceships (just like in today's planes), voice recognition technologies and space tourism – all this was invented back in 1968, only on a TV screen.
To design a hi-tech space universe, Kubrick hired technical consultants from NASA, IBM, Boeing, General Electric and spent 6.5 out of 10 million pounds on special effects. The movie was such a success that even Bill Gates once confessed that Space Odyssey made a great impact on his career and understanding of computer technologies.
By the way, it was Kubrick's movie brought up by Samsung's legal counsels in a new lawsuit against Apple. In their opinion, the idea of tablets became part of mass culture thanks to Space Odyssey and, therefore, cannot be Apple's "exclusive" patent. In their rhetoric, they appealed to the design of the cosmic tablet which was very similar to the first iPad.
Star Wars
Holographic calls
Year: 1977
Director: George Lucas
The universe of George Lucas has just as many parallels with modern ICTs. In the Star Wars Galaxy, there are three types of communication systems: comlinks, subcosmic transceivers and holographic technologies. The principle of cosmic connectivity operation is quite similar to Earth-like data transmission techniques. Comlinks and transceivers provide communication across worlds in real time letting characters send instant messages.
But the key achievement of Lucas is that he capitalized on the idea of a holographic network. This three-dimensional instant action network can create volumetric images and communicate even with the most remote parts of the Galaxy.
So far, the fantasies of George Lucas have not become real. But in 10-15 years we may well be able to receive holographic calls with a 3D image of the caller. To operate, such a service will require a high network throughput (up to 10 Gbps) and an increase of data transfer speed to 100 Mbps, conclude experts of the National Research Institute for Technologies and Communications.
Мatrix
Welcome to the real world
Year: 1999
Directors: Andy and Larry Wachowski
Мatrix, 1999
460 million-dollar box office, 4 Oscars and 28 other awards, 5 years of work on the scenario, revolutionary special effects and allusions to Plato, Baudrillard and Orwell. Cinema critics agreed long ago that Wachowski's Matrix can be considered more a philosophical story than a story about high technologies. Yet, the movie's storyline is based on the evolution of technologies – virtual reality, or, simply, VR.
In 2016, VR became the key trend and no. 1 headline: the market saw new Google smartphones with View headset, helmets and glasses by Samsung and HTC Vive, and the ongoing development of VR solutions for medical applications. It seems we all want to find ourselves in another world which is very similar to the real world. We all would like to be inside the Matrix.
Yet, VR devices are not sold as well, as they are discussed. Manufacturers are still struggling to remove the key gaps of these gadgets: physical discomfort of users and a high price.
Her
- Are you in love with a computer? – She is not a computer!
Year: 2013
Director: Spike Jonze
Her, 2013
Theodore, a writer, is tired of loneliness. But the world around him changes with Samantha. She is always cheerful, available, supportive and undemanding. She is nearly perfect. Her only disadvantage is that she is an operating system.
Spike Jonze looked three years ahead by creating a virtual assistant, a chatbot speaking with Scarlett Johanson's voice. In 2016, chatbots became another powerful trend in the hi-tech market. This year Facebook, Telegram and Microsoft understood that people want to interact with a computer using a familiar language, save time and effort.
Messengers now have chatbots that can handle a variety of day-to-day functions. They can order a taxi, find a new car, help learn a foreign language or create a playlist with favorite music. A conversation with a bot looks like talking to a real person thanks to AI and advanced dialog interfaces.
August
More opportunities, more freedom
Year: 2008
Director: Austin Chick
August, 2008
In the list of top films about high technologies there is a special place for films about their creators. This 2008 drama with Josh Hartnett and David Bowie is lost next to the award-winning movies about Steve Jobs and Mark Zuckerberg. Nevertheless, the creators of August are telling an interesting and almost fact-based story about the Yuppie generation and the new economy of the XX century. A story of young entrepreneurs who were unfortunate to do business in early 2000s.
The film action is set right after the Dotcom crisis of 2000 and one month before 9/11 tragedy. The movie's characters, Tom and Josh, are trying to save from bankruptcy their agonizing startup, about to sink together with other online businesses. The story based on real-life events is about another collapse of the American dream when each IT guy was dreaming of making easy money in the Internet, but instead met with a severe economic crisis.
The Social Network
You don't get to 500 million friends without making a few enemies
Year: 2010
Director: David Fincher
The Social Network, 2010
The story about the creation of Facebook, beautifully told by David Fincher and Aaron Sorkin is, on one hand, a colorful biopic and, on the other, a universal drama about the generation of nerds striving for leadership without having a final goal.
The facts of Mark Zuckeberg's biography are well known: he is a young Harvard student who created a social network for students and became the youngest billionaire on the planet at the age of 23. Today, Facebook is one of the most successful Internet projects and one of TOP-5 most frequently visited online resources in the world (in 2016, FB's audience exceeded 1.71 billion users, or 20 percent of Earth's population). What is behind these figures: unhappy love, youth obsession with excellence, longing for self-assertion or the young genious' talent? In this story, Fincher is focused on people, their concealed motives, behavioral patterns, and an infinite array of choices we make every day.
By the way, Jesse Eisenberg, the lead actor of the movie, is not only an Oscar nominee, but also the creator of his own website, Oneupme.com, focusing on a wordplay game.
Kin-dza-dza!
A trans-galactic call
Year: 1984
Director: Georgiy Daneliya
"Hello, Lucy! This is me! Can you hear me? – Hello, yes, I can hear you. Where are you? – At some place, I will tell you later." Heroes of Daneliya's movie could call home right from a different galaxy. The connection with the imaginary planet Pluke is set up in quite an unsophisticated way – through a dynamic and a metal tube used as a receiver. It seems a trans-galactic call was a luxury. Vova was the only one who was allowed to make a call home, while the Violinist was cut short.
This 1986 movie also hints at the Internet of Things technology. Wef got pissed off when he approached the fuel station: "Lady removed, pump tucked in!" The authorities of the planet might have equipped the fuel stations on Pluke with M2M sensors and collected real time data on incoming Chatls and consumed fuel.
Stay connected!