MWC Shanghai 2017
What were the highlights of the Mobile Congress in China?
MWC Shanghai is a GSMA industry event hosted for a second consecutive year in Shanghai. This time, over 650 companies from 100 countries, both key market players and "newbie" startups in the telecom domain, presented their recent solutions in China. It was our first visit to the Congress in Shanghai and we are happy to tell you about funny new products, events and telecom trends.
5G networks: trillions of dollars, unmanned cars and digital medicine
The future of fifth-generation networks was one of the key topics of 2017 Mobile World Congress Shanghai. High on the agenda again are the technical issues of the new communications standard (frequency spectrum, necessary infrastructure changes in mobile networks, network architecture), as well as the commercial capacity of 5G technologies in various domains: transport, energy, healthcare, industry, and agriculture.
According to GSMA's forecasts, by 2025 there will be over 1.1 billion subscriptions in fifth-generation networks globally, with China reaching 428 million connections, or 396 percent of the total connections in the world.
By 2020, telecom profits in China are expected to increase up to 1.2 trillion dollars, all this thanks to using new 5G features. A high connection speed (up to 20 Gb/sec) with a low data transmission delay will lead to birth and expansion of new services showcased at Shanghai Mobile Congress this year.
Even before the launch of MWC, the "Big three" China operators – Сhina Mobile, China Telecom and China Unicom – announced their readiness to commercially implement 5G networks in 2020; they are now performing tests in Beijing, Shanghai and other Chinese cities. China Mobile, the largest operator globally having 850+ million subscribers, together with ZTE, have already demonstrated super-high connection speeds of the new standard at the Mobile Congress. They performed tests in a 5G eMBB network in Guangdong Province. Visitors of their interactive presentation could witness the high-speed data transmission potential: in the 100 MHz range the speed reached as high as 2 Gb/sec.
Self-driving cars – the future is already there
Economic advantages of 5G technologies were discussed at various sessions of the Mobile Congress. In his presentation, Steve Mollenkopf, CEO, Qualcomm, offered more than an optimistic forecast.
«According to Steve, the new communications standard will empower businesses with the opportunities that are still unknown to us. The potential 5G profits can reach $12 trillion globally, with 2.4 trillion of that brought by the automotive industry».
All this is, primarily, about further development of Connected Cars technologies and the forthcoming inception of the market segment of self-driving vehicles.
American and European automotive concerns, working together with software vendors, are joining standardization efforts in 5G transport technologies. In April 2016, Ford, Lyft, Uber, Volvo and Waymo formed the Self-Driving Coalition for Safer Streets, an alliance for the promotion of legislative initiatives and development of self-driving technologies. Six months later Audi, BMW, Daimler, Ericsson, Huawei, Intel, Nokia and Qualcomm introduced another industry-focused organization – the 5G Automotive Association (5GAA). This new association will be responsible for developing and global market promotion of cutting-edge telecom solutions for new generation vehicles. MWC Shanghai 2017 exhibited one of these advances – the first world's car powered with a 5G-based remote control technology.
SAIC Motor, a Chinese automotive powerhouse, brought its new release to Shanghai after several years of design efforts together with Huawei and China Mobile, unveiling a car with installed high-definition cameras, first such product in the world. Thanks to a high bandwidth of the 5G network, the driver receives a 240-degree video feed from the road. He can control the car remotely in real-time at significant distances reaching over 30 km. This new technology is committed to addressing the human factor which is the key road safety challenge. For instance, in the US 94 percent of all road accidents happen just because of drivers' behavior, the US National Highway Traffic Safety Administration reports.
Digital medicine – investments are on the rise
The future impact of 5G technologies will go beyond automotive to such industries as healthcare. New data intelligence systems, predictive diagnostics, wearable devices, mobile apps, sensors for remote health monitoring and even remote surgery have already changed medical care frameworks in some countries.
According to Accenture, in the US the investments in healthcare digitalization exceeded $6 billion in 2017, while in 2011 this figure was just a bit over $2 billion.
GSMA believes that China has the second largest digital medicine market in the world after the US amounting to an estimated $291 billion.
The online consultant for the Сhunyu Yisheng smartphone is one of the popular services currently available. In 6 years this Chinese startup attracted $243.38 million investments and connected over 30 million users and 600,000 doctors in a single network. In almost an instant, patients can get specialist advice, information on drugs, illness symptoms and treatment methods.
It is obvious that the digital medicine market will not be able to progress without involving CSPs and vendors of IT solutions. At the Mobile Congress, Nokia and China Mobile presented a result of their work in this field. Their demo stand featured a live demonstration of the latest technology based on a 5G solution by Nokia allowing rapid transmission of X-rays and patient video between ambulance and hospital. With high data transfer speeds of 5G networks, doctors will be able to start diagnostics and treatment preparation while the patient is being transported.
More about the Internet of Things again: facts from the field
Another critical subject of MWC Shanghai 2017 inseparably linked with 5G is the development of IoT technologies which is the recent years' trend of GSMA Mobile Congress. Here is a selection of what the participants said on this topic:
Mikael Lindholm, Telenor. The highest growth we expect is an automotive, transportation and logistics. Energy management and industrial manufacturing are also important verticals.
Enrique Blanco, Telefonica Group. The IoT is a trigger for 5G deployment. Networks will need to support everything from new healthcare applications, to improved media delivery and providing the backbone to connected vehicle technology. This is not a 100-metre race. It's an ultra-marathon of 100 kilometers, which we are just beginning.
Steve Brumer, 151 Advisors. 5G and the Internet of Things present a lot of untapped opportunity that will create winners and losers for the next decade. What is the future of technology? Is it LoRa or NB-IoT? And how quickly carriers can deploy? Along with the new networks, a key theme will be what hardware is available to support those new bands and how quickly will they come to market.
Neil Mawston, Strategy Analytics. Mobile operators worldwide have good opportunities for growth this year in 4G smartphones, wearables, drones and home robots.
More from Shanghai Mobile Congress
As a separate feature, the GSMA Congress presented minor companies that are putting their technologies or products to the market or still developing them. At each of the congresses in Shanghai, Barcelona and San-Francisco, GSMA presents its own business platform 4YFN that helps startups, investors and corporations find new business development opportunities. In 2017, 150 young companies that are part of 4YFN demonstrated their solutions in Shanghai. The Russian startup industry was represented by residents of the Skolkovo Foundation that came to Shanghai thanks to the support from the Russian Ministry of Communications and Mass Media.
Wattervive Blue is a Spanish startup for those who often drop their smart phones into water. This new product is a pouch filled with special liquid with chemical properties protecting the logic board from corrosion and damage. Simply put the drowned device to a Wattervive Blue pouch for 7 minutes, wait for 24 hours, and you are ready to use your refurbished phone. Just for $24.99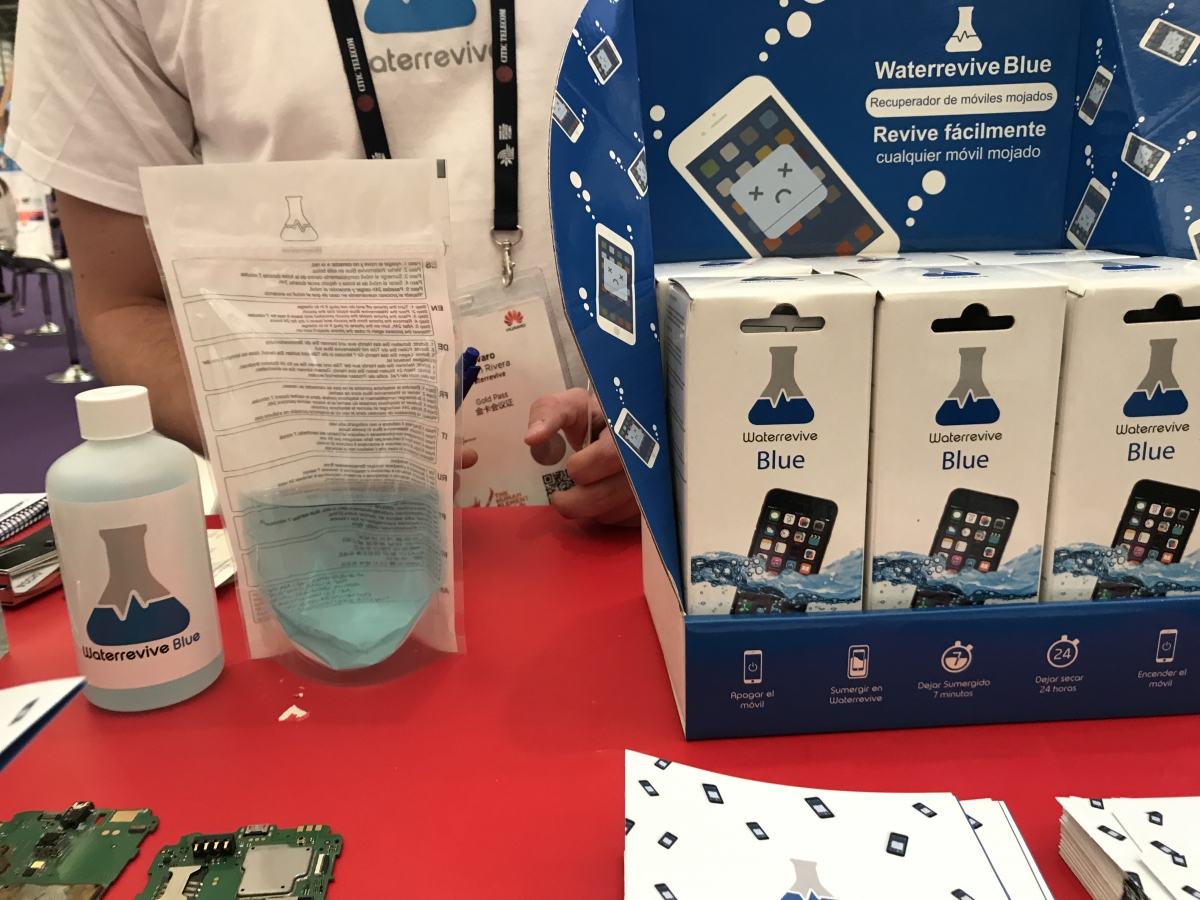 AppMagics is a Chinese startup based on the idea that virtual and augmented reality technologies will soon organically transform into a Mixed Reality. The company positions itself as a pioneer of this new MR technology: the app they are developing enables its users to interact via a 3D avatar in real time.
MailTime is an American startup promoting a new way of writing e-mails. With it, business e-mail exchange will be as convenient and fast as chatting in Telegram. The app has a classic messenger interface. When installed, it allows using Outlook, Gmail, Yahoo and other mail services as a usual messenger: chatting, creating group chats, quickly sending photos and videos and recording voice messages right through the phone. The app is available for download in Google Play and App Store.
Technovator is a Poland-based company that developed a system for wireless energy transfer at a distance. This new device allows wireless charging at a distance of up to 5 meters from the charging station. The charging swiftly begins when the phone is placed inside the electromagnetic field, while you can continue reading books, writing messages and watching videos.
This year's Shanghai Mobile Congress logically continues the agenda of the expo in Barcelona featured in our blog earlier.
Yet again, the present and future of the Telecom industry is inseparably linked to new technologies: 5G, the Internet of Things, virtual and augmented reality, search of non-standard solutions and accepting the need for a close cooperation of all market players.
Stay connected!